Homemade Jewelry Cleaners for Precious Metals and Stones
Your jewelry can add a big smiley to your dresses when they are dazzling; and how much you can make them sparkle depends on what your jewelry cleaner is made of. Here are three safe, organic ways that allow you to maintain the shine of your precious belongings, using ingredients like baking soda and ammonia, instead of the store bought jewelry cleaning products.
However, keep in mind that these are never recommended for cleaning soft stones and gems such as turquoise, jade, amber, opal, coral, and pearl, due to risk of damage.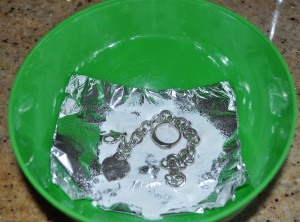 How to Clean Jewelry at Home with Natural Cleaners
Jewelry Cleaning Solution with Baking Soda and Vinegar
Things required:
Baking soda – 1 tbsp (Many brands make unprocessed baking soda. Use such a product.)
White vinegar – ½ cup
Tea tree oil – Few drops
Soft-bristled toothbrush – 1
Glass jar – 1
Procedure:
Pour half a cup of vinegar and a few drops of tea tree oil in the glass jar and mix well.
Put your jewelry to be cleaned in this solution, and leave overnight.
Next morning, take them out of the jar, coat with baking soda, and brush them thoroughly with the toothbrush.
Wash the jewelry clean with normal water.
DIY Fine Jewelry Cleaner with Aluminum Foil (Suitable for Gold, Silver and Diamond)
Things required:
Salt – 1 tsp
Baking soda – 1 tbsp
Aluminum foil – 1 piece
Water – 1 cup
Procedure:
Heat water in the micro-oven for a couple of minutes.
Take a cereal bowl and place an aluminum foil at its base, so that the whole base is approximately covered.
Pour the hot water into the bowl and add the salt and the soda to it.
Put the gold/silver/diamond or other gemstones and jewelry in this solution (on top of the aluminum foil), and set aside for about 10 minutes.
Remove jewelry and rinse thoroughly.
The solution is for one-time use only.
How to Make an All-Purpose Liquid Jewelry Cleaner with Ammonia
This recipe is good for hardy precious stones like diamond, ruby and sapphire, as well as platinum, pure and white gold jewelry. It is equally safe for fake costume jewelry made of copper, brass, stainless steel, and similar metals.
Things required
Sudsy ammonia – 1 cup
Water – 1 cup
Soft-bristled toothbrush – 1
Small piece of cloth – 1
Jar – 1
Procedure:
In the jar, mix the sudsy ammonia with water.
Soak your jewelry in this liquid for 10-15 minutes.
Use the toothbrush to gently clean through the settings and crevices.
Wash with normal tap water and air dry.
Use a cloth to buff it clean. Discard the solution if it gets dirty after use.
Tips:
If you do not have sudsy ammonia in store, you can also use 1 part of clear ammonia with 6 parts of water for similar results.
More Jewelry Cleaning Tips
Being gentle and non-toxic, toothpaste alone works as one of the best cleaners, especially for tarnished sterling and pure silver jewelry. Simply rub the paste on your jewelry with a damp cloth and then use a toothbrush to brush them clean, until you get the desired luster. Finally, wash off. Using plain toothpaste is recommended since gel does not contain enough abrasives to effectively clean your jewelry. Whitening agents and tartar controls may also be harmful.
For soft stones, use a combination of mild pH neutral baby soap and mild warm water to softly brush them clean.
Mix 1 tsp of borax with 1-2 cups of boiling water and soak your silver jewelry in the mixture until it cools. Then wipe them with a soft cloth.
For an easy, instant jewelry cleaner, just mix 1-2 tbsp of baking soda with a cup of hot water, put your jewelry in this solution for a few minutes and rinse dry. This mixture peculiarly works great with diamond jewelry.
Mere hydrogen peroxide is effective to wash your dirt-filled diamond and cubic zirconia rings. Place your ring in a small cup and pour the liquid over it. Wait until a series of bubbles appear (which means the dirt is dissolving in the chemical). As the bubbles disappear (after a minute or so), wash it in water, and then rinse in alcohol to bring up the shine.
Make a paste with 1/4th tsp of lemon juice and 1 tsp of baking soda. This will initially fizz, and then settle down. Use a small cloth to buff your jewelry with this. Wash off when done.
Homemade Tooth Powder
Prepare your own tooth powder at home for healthy gums and teeth. The recipes given ...