6 DIYs for Your Own Homemade Shampoo
Shampoos made at home are not merely good for your hair, but can also be customized according to your needs, depending upon the hair type, hair problems, and so on. This is because homemade shampoos, both liquid and dry, are made of mild, natural ingredients, being hair-friendly, having no sulfates.
1. Organic dandruff shampoo and conditioner
This recipe works both as a shampoo as well as a conditioner, with lemon juice having natural conditioning and anti-dandruff properties. It can also help with sensitive scalp problems and head lice treatment since it helps in balancing the scalp's pH level.
Ingredients
Coconut milk – 1/4th cup
Liquid castille soap – 1/3rd cup
Vitamin E oil – ½ tsp
Green tea liquor (steeped and cooled) – 1/3rd cup
Almond or olive oil (optional) – ½ tsp
Lemon juice – 1-2 tsp
Procedure
Pour all the ingredients in a small, old shampoo jar, and shake thoroughly to mix.
Use around 1 teaspoon whenever you need a shampoo bath.
Store this in the refrigerator for up to 4 weeks. Shake well every time before use.
2. Coconut oil shampoo with honey and essential oils
This is a waterless shampoo that lathers, with the coconut oil and honey giving it moisturizing properties.
Ingredients
Fractionated coconut oil – 2 tbsp
Liquid castile soap – ½ cup
Raw honey – ¼ cup
Coconut milk (or raw goat milk) – ¼ cup
Vitamin E oil – 1 tbsp
Essential oils – 40 to 50 drops*
Procedure
Transfer all the above ingredients in the jar. Shake the whole mixture well.
Use it like any other regular shampoo, as and when you need.
*Here is how to use combinations of different essential oils to treat different hair issues:
– For hair loss, mix the essential oils of cedarwood, peppermint, lavender and rosemary 10 drops each.
– For dandruff issues, use melaleuca, rosemary, lemon and lavender 10 drops each.
– For damaged or fragile hair, combine lavender and orange 15 drops each, with 20 drops of clary sage.
Tips
If you do not have vitamin E oil at home, you can mix 1 tbsp of olive oil with 1 or 2 vitamin E capsules, and use this mixture as a substitute.
Additionally, adding 1 tsp of Epsom salt to the mixture during application can combat greasiness. Keep it for 5 minutes and wash off.
Alternatively, for a gentle baby-friendly version of this shampoo, mix ¼ cup baby liquid castile soap, 1-2 tbsp almond/jojoba oil, and a few drops of essential oil (lavender, tea tree, chamomile) in a 12-oz. glass bottle, and fill the rest with water. Mix the ingredients thoroughly. Also use this as a body wash for your baby.
3. Clarifying shampoo without castile soap for curly and color-treated hair
This protein-enriched shampoo is good for color-treated hair since both egg and lemon juice has acidic properties. Also, the protein found in beer's malt works great especially for damaged curly hair.
Ingredients
Egg – 2 (egg white and yolk included)
Lemon juice – 3 drops
Edible gelatin – 1 tbsp
Beer – 2 tbsp
Cornstarch – ½ tbsp
Procedure
Whisk all the ingredients together.
Wash your hair with this shampoo.
Rinse thoroughly with warm water (to ward off any smell), and finally with normal water.
4. Clay shampoo for oily hair
Ingredients
Green clay – 1 tablespoon
Liquid castile soap – 1 tablespoon
Strongly brewed green tea – 2 teaspoons
tea tree oil – 10 drops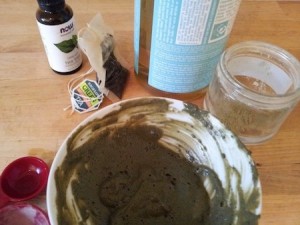 Procedure
Combine all the ingredients together to form a smooth paste.
Use this as your normal shampoo.
5. DIY Natural shampoo bar with castile soap
Ingredients
Castile bar soap – 1 pound
Pale ale (or any hoppy beer) – ½ cup + 2 tbsp (divided into 2 parts)
Rhassoul or kaolin clay – 2 tbsp
Shea butter – ½ tbsp
Jojoba oil – 1 tbsp
Avocado oil – 1 tbsp
Essential oil – 5 to 1 oz
Procedure
The procedure is very similar to making hot process soap. You only need to mix ½ cup pale ale with the grated Castile soap before putting it in the crock-pot. Then mix the remaining pale ale with the clay and add it to the melted soap along with shea butter, avocado oil, jojoba oil, and the essential oils. Then mold the soap as instructed.
You can use any essential oil of your preference including jasmine, vanilla and rose. For dark hair like brown, red and black, rosemary and peppermint are good choices, while lavender and lemon are suitable for blonde hair.
6. Aloe vera and coconut milk shampoo for dry hair
Aloe vera is effective in restoring your hair's pH level, treating eczema and dry hair. It also combats psoriasis, prevents thinning of hair by enhancing growth.
Ingredients
Pure aloe vera gel – 3/4th cup
Coconut milk – 1½ cups
Procedure
Mix the aloe gel with the coconut milk.
Use it like a shampoo during your shower.
Preserve the rest as ice cubes for later use.
Few more simple DIY shampoo recipes
Mix rhassoul clay, glycerin, and apple cider vinegar together. The quantity depends on the length and thickness of your hair, but the final thickness should be like egg yolk. Apply thoroughly all over your hair from the roots down to the tip and wash off after 5 minutes.
Soak 50 g of dry soap nuts in 2-3 cups of water overnight. Next morning, mash them and strain the soapy solution, and add 1 tsp of shikakai powder. Shampoo your hair with this.
Mix a cup of water (boil it for 10 min. in case of hard water) with 1 tbsp baking soda and massage for 2-3 minutes. Allow it to sit for 2 minute, and rinse off thoroughly to avoid baking soda from leaving residue.
Add 7 oz of natural yogurt, 2 tbsp of coarse sea salt to 1 tbsp baking soda, apply the mixture on your hair, allowing it settle for 10 minutes. Wash off.
Oatmeal flour can thicken the consistency of your shampoo. Gums like xanthan, cellulose or guar gum are also general shampoo thickeners. They are also good suspending agents and foam stabilizers, and do not penetrate into the skin. Use a proportion to get your desired consistency. These are available in shops that sell baking ingredients.
Homemade Tooth Powder
Prepare your own tooth powder at home for healthy gums and teeth. The recipes given ...